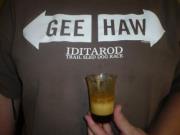 Celebrate the Iditarod Start with a Duck Fart!
Recipe:
Equal parts (1 shot each) Kahlua, Baileys and
Whiskey layered in a small clear glass.
Let it sit for a minute or 2 so the layers emerge.
Pick up glass, shout the name of the musher who
is currently in the chute.
Shoot contents with your head back.
Bring head back to an upright position. Shiver.
Repeat for next musher in the chute.